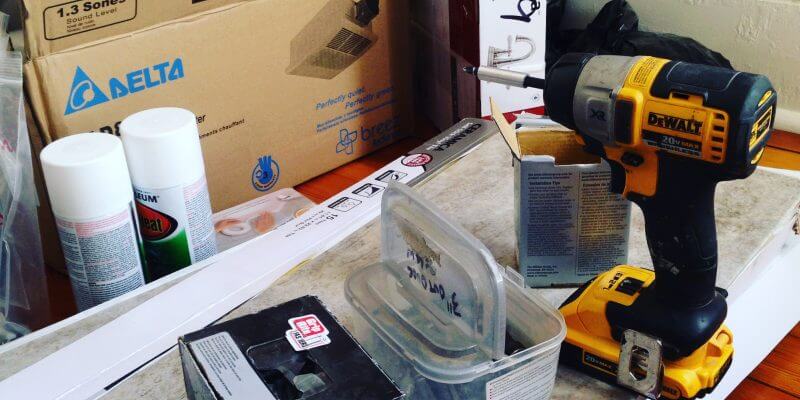 Home Improvements
Back just before Thanksgiving, I left a teaser on our Instagram account about starting some improvement projects. When you own a home, I think you naturally have a running list of things you want to do – small repairs and updates as well as big projects to complete. That list never seems to get shorter when you own a 130+ year old home that also operates as a Bed and Breakfast!
And so, I wanted to finally share with you the projects we completed just before the Thanksgiving holiday.  These two items had been on our list for a while, and we were glad to be able to check them off as complete! The Shore Room bathroom and the Hearth and Home Room bathroom received facelifts. Both rooms had older linoleum flooring that needed updating and the fixtures in the Shore Room were also a little behind the times.
Day one of the project consisted of removing everything from the rooms and disposing of the old fixtures that wouldn't be used again. We ripped out the flooring and removed the old light fixtures and exhaust fans.
Day two saw paint touch ups completed, and the new tile floors went down. New lighting fixtures went up, and the new exhaust fans were installed.
On day three we grouted the new floors and reset most of the toe kick at the baseboards.
Everything came back together on day four. The plumber installed the new toilets and the new vanity in the Shore Room. New vanity mirrors were hung, and any remaining caulking and trim work got our attention.
The fifth day was time for us to finish up any final details and clean up. It was a quick turn around to get everything done, but we managed it! I think both rooms look great with their new face lifts.
One of our traditions during any home improvement project is a dinner I call "Renovation Chili". The chili can be quickly set up in the morning in a crock pot, and by the time you are finished with a long day of work, you have a nice hot meal waiting for you that required very little work. I vary the measurements a little each time depending upon the taste I want, but this is the basic recipe for our Renovation Chili:
Waypoint House Renovation Chili
1 lb Ground Beef
1 Large Onion, diced
1 Green Bell Pepper, diced
1 Jalapeno, seeded and chopped
2 Cloves Garlic, minced
2 cans Diced Tomatoes (14.5 oz)
1 can Kidney Beans, drained
2 Tbl Tomato Paste
2 tsp prepared yellow mustard
1 Tbl Worcestershire Sauce
1.5 Tbl Chili Powder
1 Tbl Cumin
½ Tbl Dried Oregano
1 Bay Leaf
1/2Tbl Apple Cider Vinegar
In a large skillet, brown the ground beef, drain off fat, reserving a few tablespoons for the next step, then transfer meat to crock pot. In the same skillet, sauté the onion, bell pepper, and garlic in a bit of the reserved beef fat until onions are translucent. Transfer to the crockpot. Add the remaining ingredients to the crock pot and stir well. Cook 6-8 hours on low. Remove bay leaf, ladle into bowls and enjoy!
Attached our some pictures of our work in progress, and then the finished product. What do you think of the improvement? Do you like the updates? Let us know!