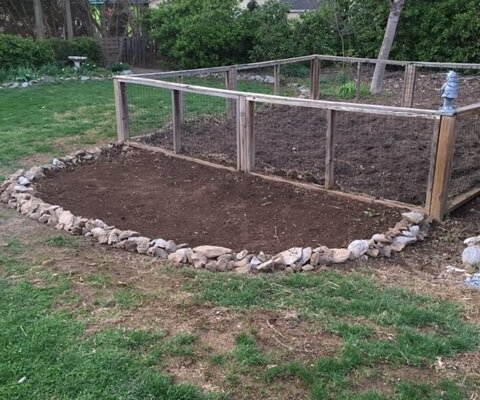 Spring Rejuvenations
Spring finally seems to be arriving and we've been working on some spring rejuvenations. The days are warmer and we get an extra bit of time each evening before the sun goes down to complete our outside chores (of which there are many this time of year). As you may know, we have a tendency to be involved in some sort of home improvement project on a nearly ongoing basis. Whether it's outside or inside, we're almost constantly working on something. We can't help it. We're compulsive. We just want to continually make things better. Early on, Jonathan and I had this instilled in us. For me, perhaps, my 4-H days are partially to blame. Any former 4-H kids out there remember the 4-H motto? *Raises hand with enthusiasm as only a nerd at heart would do.* "To make the best better." Yep, that's us.
Recently, it's been outdoor updates keeping us busy. It is spring, after all. The lawn has needed some thatching and reseeding, and we've annexed a bit more garden space for our herbs and vegetables this year. I really enjoy being able to bring fresh things from our yard right to the breakfast table and I keep looking for new ways to be able to do that. I just have to figure out where to put those blueberry bushes I want…
The most exciting news, however, is that we have two very big projects planned for this summer. Big in scope and big presence. These changes will be zingers.
We're going to need a little time off to accomplish it all though. We are planning to keep the work mostly to weekdays in the month of June, so if you are considering a weekend visit this summer, we still have you covered. Plan ahead though, folks. With three rooms, we tend to fill fast.
There will be lots of photos and updates through the blog, Facebook and Instagram. If you don't follow us on either social media platform, now would be a good time to start. Links to our social media pages are in the sidebar of this page. Go have a gander.
"But what are these projects?" you are saying to yourself right now. "Aren't you at least going to give us a hint?" Okay – one hint: