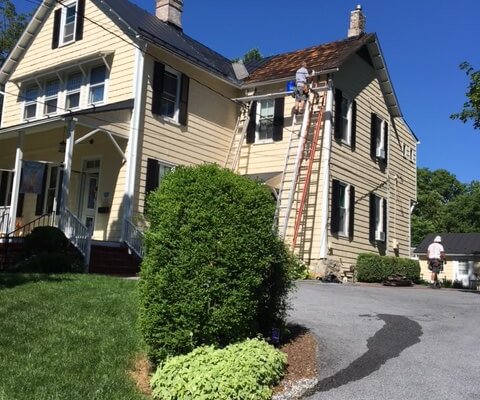 Celebrating Our Five-Year Anniversary and Our June Improvements
It's been a very exciting first two weeks of June, and today is a very special day for us. Today we are celebrating our five-year anniversary and our June improvements are underway!
Yes, that's right, it's already been five years here at Waypoint House and we still love every minute of it.  By itself, that's a pretty big deal this week, but also we're right in the middle of our planned June improvement projects.
Aside from the little hint I gave you in the last blog, we are also undertaking having the roof replaced – a new hat for our old girl, as we like to say.  Ironclad Contracting has been on the scene taking the old roof off section by section and re-installing our beautiful new standing seam metal roof.  We are already so pleased with the progress.  The cherry on top will be when our side bay window receives a new copper roof that we think is going to be a really spectacular accent.  I can't wait until I have photos of that to show you!  It will be the last thing the contractor does, so we must be patient for a few more weeks.
The interior work is underway as well. The front hallway, stairwell and second floor hallway will have all the wallpaper replaced.  We will install chair rail molding and paint the bottom portion of the walls.  Jonathan has already primed and painted the molding for installation and today the wallpaper removal process started.  I'm also doing some touch up painting on the second floor hallway doors and trim so that everything has a nice, clean, polished look.  We're calling the wallpaper project the new "dress" for our dear girl!  So, a new hat and a new dress for our lovely lady as we celebrate our five year anniversary – not too shabby!  Stay tuned for more updates as progress continues!