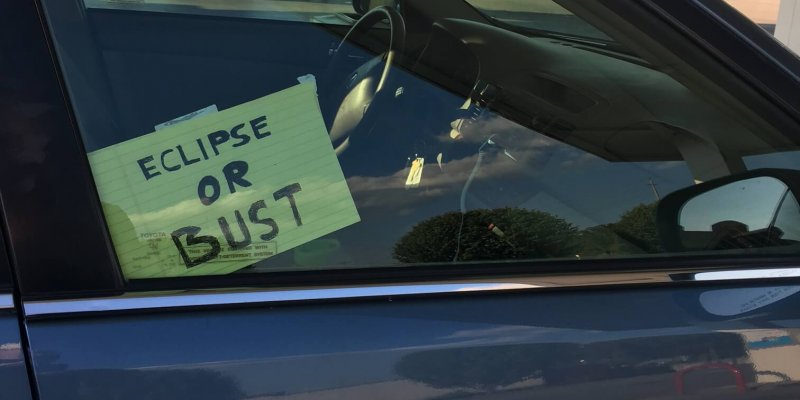 In Search of the Great Eclipse Experience
In Search of the Great Eclipse Experience: Totality and Hospitality
Some days you turn on the radio or TV, open the paper, or go on the internet and come to the conclusion that all the news is bad. Certain days feel like a real struggle for humanity. But if there is one thing that inn keeping has taught me, it's to believe in people. Time and again I'm reminded that most people are good human beings. That was never more true than this past weekend for Jonathan and I as we went in search of the great eclipse experience. Let me tell you a story.
More than a year ago, Jonathan told me of the total eclipse that was coming in August 2017 and his desire to go see it. He's been an astronomy enthusiast since his teenage years and was thrilled that the opportunity to see a total solar eclipse would be so nearby. For months the date was marked on our calendar.
In mid-July we had a wonderful couple from Georgia staying with us and as we were talking one evening, we mentioned that we were planning to see the eclipse. They said the town they live in would be in the path of totality. Jokingly, I said we hadn't made our travel plans yet, but maybe we could stay with them. "Of course!" she replied.
The next morning after breakfast she made a point to tell me that she and her husband would be thrilled to have us join them at their house and to let them know if we wanted to come down.
I told Jonathan of the generous offer, and we considered going. It ended up, however, that Jonathan was only able to take the actual day of the eclipse off work. Since he needed to be back to his office for Tuesday morning, we started looking for a closer location where we could still experience totality.
About three weeks before the big day, Jonathan settled on a town in Tennessee where there'd be totality, and he found a hotel that still had rooms available, so he booked it. We were going to see the 2017 eclipse! The thrill of finding a room on such short notice did not last long, however. Soon he was filled with buyer's remorse. After reading the reviews of the hotel online, he suddenly wasn't so sure he'd made a good choice. Excitement over seeing the once in a lifetime event was high, but there was trepidation concerning the accommodations.
As the day got closer, our rooms here began to fill too, and we recognized that we were catching a little bit of travel traffic.
On Wednesday before the eclipse, I got a call from a woman named Debra who wanted a room for Friday. She and her husband, David, would be traveling to Tennessee for the eclipse, and after she gave me her husband's last name, I realized they were probably related to a repeat guest of mine who lives in Tennessee. When I inquired, she confirmed that indeed, it was her mother-in-law, Mary Anne, who had stayed with me. Mary Anne gave my information to them and said they should stop at Waypoint House on their way down.
We were happy to greet Debra and David on their arrival Friday evening, and talked with them excitedly about the upcoming eclipse at breakfast the next morning.  Jonathan mentioned that he was concerned about the hotel he had booked, but said we'd make the best of it in order to see this rare event.
In a weird twist of events, David said that if we were worried about our hotel room, he knew of an extra room at his mother's neighbor's house due to a last minute cancellation. It was literally two doors down from where they would be at his mother's.
Jonathan and I discussed our options. Take our chances at a sketchy motel, or take the nicer room and be with people we knew. The town was also about 40 miles closer than where we had initially planned to be, so though we would spend less slightly less time in totality, it would make the drive a bit easier. We didn't have to deliberate very hard. We thanked David and Debra profusely and said we'd happily take the room and meet up with them on Sunday when we arrived in town.
Excited for the adventure ahead and still beaming over such an unexpected turn of events, we hit the road late Sunday morning. The drive was long, and there were clearly a lot of people on the road doing exactly what we were doing. It was a festive, communal atmosphere in a way, though.
As our destination approached Sunday evening, we texted David and Debra to say we planned to stop in town to grab a bite of dinner at one of the restaurants. No, no, they said. We heard the restaurants in town are packed. You'll never get a seat. Come straight to the house. We'll have dinner waiting for you.
After nearly nine hours on the highway, we gratefully arrived at Mary Anne's house. The welcome was warm and we were quickly offered cold glasses of beer and hot, steaming bowls of homemade Brunswick stew. After dinner, bowls of brownies and ice cream made their way out from the kitchen. We all talked and laughed and enjoyed the company of being together.
Before we retired for the evening, we were asked to join them again for breakfast the next morning. John was planning to make a big batch of biscuits and Mary Anne would be cooking eggs and bacon.
Later, as Jonathan and I got ready for bed (at the fantastic accommodations so generously provided by Mary Anne's neighbor), we marveled over how serendipitous our current circumstances were. We are in the business of providing such experiences of hospitality to others every day, but it was quite different for us to be on the receiving end now. To feel so welcome in another person's home is an amazing thing.
I have often taken note of the fact that many of our guests leave messages in our guest book thanking us for our hospitality. It has also occurred to me that one would rarely thank a big chain hotel for their hospitality. You might say certain features or services of the hotel were impressive, but would you thank them for their hospitality? In my mind, that can truly only come from a person who is giving from their heart.
Breakfast the next morning was, of course, fantastic. Good coffee, warm, fluffy biscuits, thick, smoky bacon and cheesy eggs. A little bit of heaven, in this innkeeper's mind. We were all energized, excited, and ready for the events of the day.
And so, this is a story about good people and excellent hospitality. It's about being taken in like family and being able to receive it's gift. It's about how that gift fills your heart with hope, both on the giving and receiving side.
We'd like to say thank you to Cheryl and Richard who first offered their home to us. Thank you to David and Debra for rescuing us from the sketchy motel at the eleventh hour. Many, many thanks to Mary Anne and John for opening their home and table to us. And thank you to Pat and Stan for the generous use of their basement apartment.
Because of all those wonderful people we had an outstanding eclipse weekend.
Oh, you wanted to know about the actual eclipse? Yes, it was spectacular and we were thoroughly awed during our one minute and twenty eight seconds in totality. But somehow, it became the secondary character in this story.
Eclipse or Bust: In search of the great eclipse experience
Taken in like family – amazing hospitality.
All systems go on eclipse day.
Preparing to watch the eclipse